Nodding Disease Video
A video is now available showing an example of a Nodding Disease seizure. Nodding disease and the seizure were referred to in the earlier blog entry "Buna's Story".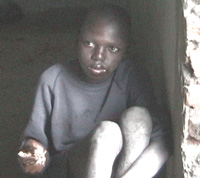 Although set up for video streaming, it is large for an online video. The total length is 10 minutes 57 seconds, and the file size is 22.4 MB. The seizure itself begins at 6 minutes 13 seconds. Quicktime is required for viewing, available for free downloading.