Diocese of Lui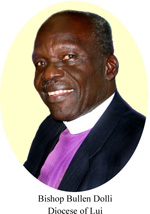 The Diocese of Lui is located in the southern region of the Sudan. The first Anglican Diocese in the Sudan dates back to the 1920's and the Church Missionary Society of the Church of Scotland. The Diocese of Lui was created in 1999. The Bishop is Rt Rev Bullen Dolli. Click here for a 2001 Touchstone interview with Bishop Bullen.
The Episcopal Diocese of Missouri has entered into a companion diocese relationship with the Diocese of Lui.
More to come. For suggestions on content to add to this page, please enter a Comment.