About Dan Handschy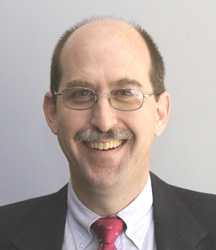 I am rector of Church of the Advent, an Episcopal Church in Saint Louis County, Missouri. I arrived at Church of the Advent in November of 1992. My tenure here has been a good deal longer than the average tenure of Episcopal Clergy in cure — largely due to Advent's willingness to take seriously its vocation to be a Christian Community. We foresee more good years together.
My undergraduate degree (a long time ago – 1980) is from the University of Colorado, Boulder in Physics. After college, I worked for a short time as a failure analysis engineer for International Business Machines in Essex Junction, Vermont. It was during that period that I walked into the Episcopal Church. I was baptized at the Cathedral Church of St. Paul in Burlington, Vermont.
Not long after, I decided to pursue an interest in theology and enrolled in the Master of Divinity program at Harvard Divinity School. After a year in the program and at the recommendation of the Dean of the Cathedral in Burlington, I approached the Bishop about ordination to the priesthood. The Right Reverend Robert Shaw Kerr ordained me to the diaconate on St. Barnabas' Day, 1986, and to the priesthood on St. Anthony's Day, 1987.
For six years, I served as the assistant in All Saints' Church, Attleborough, Massachusetts, and then for a year as an interim priest at Christ Church, Lonsdale (Lincoln) and Church of the Redeemer, Providence, Rhode Island.
In May of 2012, I received a PhD in Historical Theology in the Department of Theological Studies from Saint Louis University. I am currently teaching Ethics as an adjunct professor at Eden Theological Seminary. I am also the dean and instructor of theology at the Episcopal School for Ministry in the Diocese of Missouri. I enjoy the connection between teaching theology and practicing it in the parish ministry. Advent has taught me how to be a priest and how to do theology. There is still plenty to learn.
My wife and I married 2 June 1984. We have two daughters, born 24 May 1989 and 26 January 1992. You can find their names in the Episcopal Clergy Directory — I'm not listing them here, because I'm sure they would be mortified if anyone Googled them and arrived at this page!